I had quite a bit of fun with my buddy last weekend.
Apparently, he's really addicted to sleeping bag bondage, 'cause he keeps asking for more
I have lots of photos to share, so I'll let them do most of the talking.
So basically, we spent the whole day together and we were able to experiment with different sleeping bag bondage techniques.
He wanted to experience breath play, so I told him we'd start out slow, since he was new at it.
The idea was to tie him up, gag him, zip him up face-first inside a few of my sleeping bags and strap him in real tight.
My synthetic bags all have double way zippers, meaning I can unzip the bottom to allow fresh air to get in, and then zip them back shut.
It's not quite as extreme as breath play involving gas masks and other shit, but it still gets really hot and stuffy inside my thick sleeping bags.
What I didn't know at the time was that the little hour of breath play turned out to be pretty bad torture for him.
When I think back on it now, it's actually really hot that I was oblivious to the trouble I was 'causing my buddy while he was bound up in there.
He was grunting and moaning a lot, but I just thought he didn't appreciate the gag.
The gag really cruel in itself, but that was only part of the problem.
Let me explain...
Okay, so I spend a lot of time teasing you guys about how I could have a bunch of you over and tie you all up in my sleeping bags.
The thing is...I'm not kidding.
I have a dozen sleeping bags and all of them are thick, heavy and made for sub-zero temperatures, and I'm not even talking about my black mummy bag right now.
When my buddy came over, I'd already planned out the bags I was gonna use.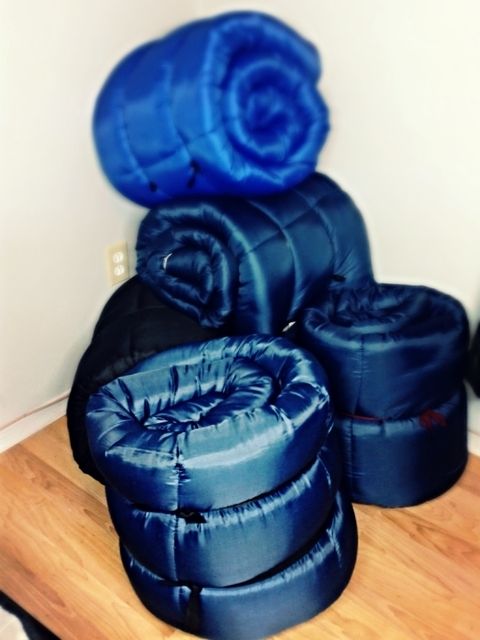 The one at the front is my "lucky bag". It's the biggest, warmest and thickest synthetic bag I own. It weighs 7 lbs and is rated to -10C.
That's the bag I bring with me on all my camping trips and it's the bag I've slept it the most over the years. And by far.
I go camping all year round, and I've ended up sleeping in my lucky bag on WAY too many night's above sub-zero temperatures.
If the temperature is under -5C, you're okay...if it's over freezing point, you'll end up sweating like a pig inside it. At least, I do.
I tend to get really hot when I sleep, and since the bag is really thick and warm, I end up sweating quite a bit.
I don't stink. I'm actually a really clean guy. I shower twice a day and most of you know that I take a lot of pride in my physique.
But my feet...well, that's another matter.
Most of you guys know that my feet tend to get really bad, especially after those long days of hiking barefoot in my shoes and boots
I'm serious though, it's pretty bad
When I go camping with my buddies, my tent-mate(s) freak out when I take my boots or sneakers off inside the tent.
So now when I go camping, I bring a plastic bag that I can keep my socks and sneakers in at night. That way the smell doesn't end up keeping my buddies awake all night like it used to
Unfortunately, my lucky bag is too big and too thick to go in the washing machine...which explains the ordeal I unwittingly put my buddy through.
Here's a shot of my lucky bag. It gives you an idea of the loft.
So here's what happened.
Since my lucky bag is the thickest of my synthetic bags, I figured it would be the best one for breath-control, so I decided that'd be the one I'd zip my buddy in. My black mummy bag would've been the best bag to use for real breath-play, but since my buddy's new at it, I wanted to take it slow.
The thick synthetic bags would do.
So I decided I'd use three of them for this exercise.
Two of my 6lbs bags zipped inside each other, and my big lucky bag inside those two.
Basically, it made one REALLY thick sleeping bag. Great for breath-play.
I didn't want him to jerk off so early during the day, so I duct taped his hands to his outer thighs.
Then I taped his fingers up before taping up his upper arms and going around is chest and back.
I didn't wanna tape him up too much, 'cause the bags and the outside straps would do most of the work.
I unzipped all three sleeping bags and helped him lie down on top of them, upside down (head towards the bottom and feet towards the top).
I sat on top of him and managed to get one of my gross gym socks inside his mouth. With his hands and arms taped down, he couldn't really fight me. And he's considerably weaker than me anyways, so forcing him to submit isn't really a big deal.
Initially, I wanted to get both my socks in his mouth, but he was fighting the sock so much that I decided to just shut him up on the spot.
I duct taped his mouth up, around his head and under his chin and over his head. I teased him for a bit and pinched his nose shut, loving the sounds and expressions he made as he tried to cope with the taste of my sock. Yeah, we'd planned this a week in advance, so I had quite a few gym sessions to get those socks moist and stinky. Not just a bit...I mean REALLY MOIST AND STINKY
I didn't wanna have too much fun with him right from the start though, 'cause what he asked for was breath play inside the sleeping bags.
Before zipping him up, I re-assured him that I'd stay in the spare-bedroom with him the whole time and make sure he was okay.
Every once in a while, I'd unzip the bottom of the three bags and give him some fresh air.
So I zipped him up.
First my lucky bag, then the two other thick bags over it.
He looked like a big blue worm.
He started grunting and moaning a lot, but I just figured he was angry about the sock gag...so I laughed and told him to shut up.
I ended up strapping him in with a bunch of my ratchet straps and got him buckled up real nice and tight.
I got a strap around the foot of the bags (where his neck was) and cinched it real tight.
The bags are super thick, so there's no danger of strangulation whatsoever.
Anyways, he should have been having a lot of fun.
I knew the sock gag grossed him out a lot, but I didn't know my lucky bag was giving him a hard time.
That bondage session ended up lasting over an hour.
I stayed nearby and unzipped the bottom of the bags a bit every five minutes. Then I'd zip them back up and let him have his fun.
I thought he was having fun...which he did, to a certain degree, but I just thought he was bitching about the sock in his mouth.
It was really gross after all.
Every time I opened up the bags a bit to allow fresh air, I teased him and told him stuff...right before zipped them all up again.
At one point, I even unzipped the three bags a bit, pulled my pants down and farted inside the opening before quickly zipping the bags back up again.
Man, did that ever get him pissed off!
We'd agreed on an hour and a half of the bag bondage, but I ended up letting him out after an hour and fifteen minutes.
He was getting all hot and sweaty and I didn't want him to overheat in there.
When I let him out and ungagged him, I found out why he was complaining so much the whole time.
He was pissed off about it too and he didn't believe me when I told him I was innocent.
It's only once he told me, that I was able to check it out for myself.
The bottom of my lucky bag STINKS!
It's smells of my feet real strong!
I've been sleeping in that bag for years, but I honestly hadn't realised that the foot of the bag might smell really awful. It's like a mix of cheese, sweat and vinegar.
To top it off, the bag is super thick, and so are the two other bags he was zipped up in.
That meant that the loft of my lucky bag was really snug around his head and face, and since I'd unwittingly gagged him, his nose was basically stuck inside the loft and he had no choice but to let his nostrils flare open and sniff the stench...FOR OVER AND HOUR!
Poor dude.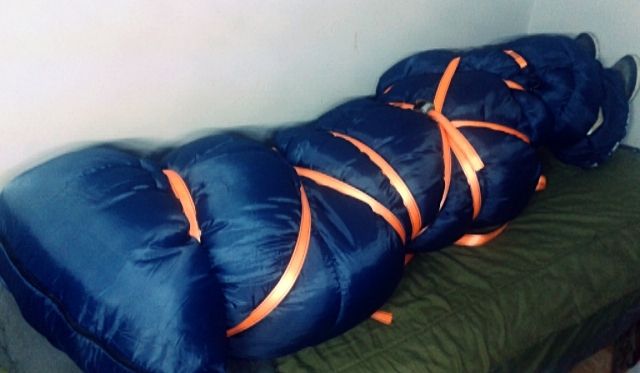 I actually felt a little bad for him.
My sock in his mouth was bad enough. After all, THAT was supposed to be the surprise torture.
But he ended up sniffing my foot stench on top of that.
The worst part being, I had NO IDEA he was moaning and crying out about the smell.
Aside from the torture, he actually enjoyed the breath-play and he said he'd want more later on, just not in the form of having his face crammed inside my lucky bag
He showered and put on some of the clothes he'd brought. We chilled for a bit and then had some more fun.
I'll be posting the rest in a bit.
I was initially planning on just showing you guys the photos, but I guess I'll be doing a lot of writing as well.
Just to give you guys a small preview of the rest, later in the afternoon, I got him geared up in some of my down gear (jackets, gloves, ski mask...etc).
He ended up spending the afternoon real nice and snug.
So, who wants to see the rest?