Some of you should remember the fun I had with one of my buddies back in spring of last year.
He had fun being tied up and helpless in my sleeping bag and I had fun making him sniff my sneakers, very much against his will
We met up on Saturday afternoon and had some more fun, which I thought I'd share with you.
We'd planned it a week in advance, so I had time to get my gym socks and workout trainers nice and...ready.
I even went for an extra long run and did a longer-than-usual workout at the gym on Saturday morning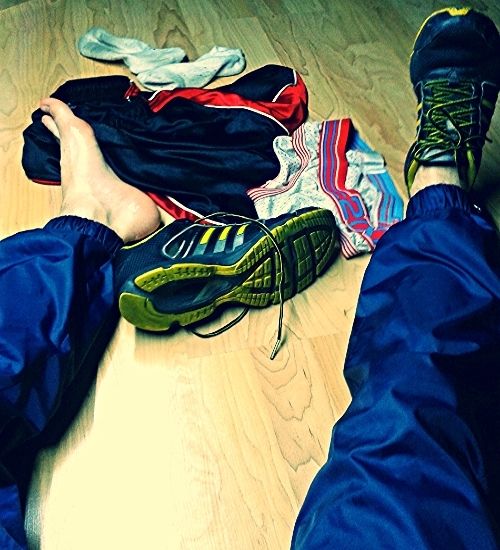 When we planned this, I gave him my word I wouldn't make him sniff my old hightops this time.
I kept my promise of course.
He really liked the sleeping bag bondage, so were already pretty much knew what we were gonna do.
When he arrived at my place, we agreed on the way he'd be tied up and opted for those big ass cable ties...the really thick ones.
I zip tied his ankles together and zip tied both of his hands down to his thighs, that way he couldn't lift his arms up to unzip the bag.
I made sure he was comfortable and that the zip ties weren't too tight before shutting the sleeping bag's inside collar up and knotting the drawcords shut. I love that feature. Even if he'd manage to break free of the zip ties and free his arms, he would still be stuck inside the super thick bag, with no way to reach the zipper.
From that point on, he was pretty helpless and that's when I started having fun.
He wanted to be gagged, but just wanted a simple tape gag like we'd done last year.
I'd been creaming my briefs all week, just at the thought of stuffing my workout socks in his mouth, so the tape gag really wouldn't cut it for me.
I tried convincing him to open his mouth and take my socks in, but I guess the smell freaked him out 'cause he wouldn't cooperate.
After more failed attempts at negotiating, I managed to no-too forcefully stuff one of them inside his mouth.
Actually...I was pretty forceful, 'cause he just wouldn't open up.
I wanted him to chew on both my gym socks, but I decided it'd be too tight and uncomfortable even with the tape wrapped around his face.
So I just stuffed one of my socks in his mouth and instead of trying to jam both of them in.
He wasn't happy about my sock and that's when he tried testing his strength against the big zip ties.
They held of course. He tried to scream and yell and tried pushing my gym sock out of his mouth with his tongue.
I just handgagged him, used my hand to cover his mouth and nose, made him sniff my other sock at the same time and told him I'd stuff both my socks in his mouth if he didn't shut up.
He...sorta quieted down, but still kept grunting and fighting.
Taping his mouth shut was tricky at first, 'cause he was fighting his sock gag the whole time.
After the first few wraps around his head, he knew he'd lost, so he stopped struggling and just moaned and grunted.
The gag wasn't uncomfortable, since the whole sock fit inside his mouth pretty snuggly.
I was able to muzzle him up and tape his whole lower face real good.
I made sure the gag was air-tight, 'cause I didn't want him breathing with his mouth.
That's also why I used electrical tape. It's more stretchy than duct tape and tends to create a more air-tight seal.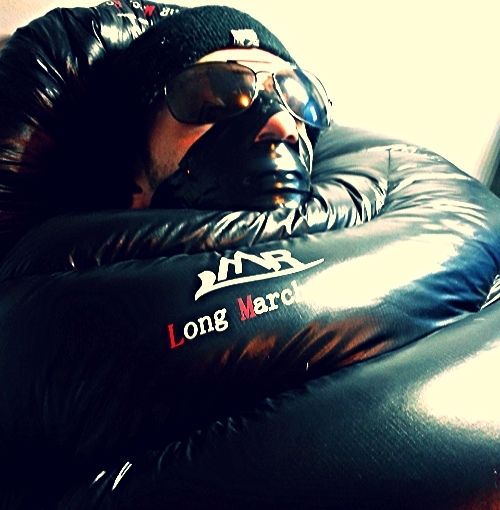 I teased him quite a bit, pinched his nose shut, made his sniff the inside of my hand, made him sniff my other sock again.
I could tell he was having fun, EVEN with my dirty gym sock in his mouth
When I slipped my trainers off, he started grunting loudly.
It was actually pretty funny explaining to him that I'd promised not to make him sniff my old Nikes, but that it didn't mean I wouldn't make him sniff my other trainers.
My running shoes are actually pretty bad, since I usually wear them barefoot as well...
The instant he got his first sniff of them, he was not a happy camper.
I have a big thing for verbally taunting my victims, so I was mouthing-off while pressing my sneaker over his nose.
He struggled like mad. Poor guy...my trainers are pretty potent, especially after I slip them off my feet like that.
I taped my sneaker to his face and spent the next hour taunting him verbally and just pressing my hands against the outside of the bag.
He ended up sniffing both my sneakers and even my basketball trainers.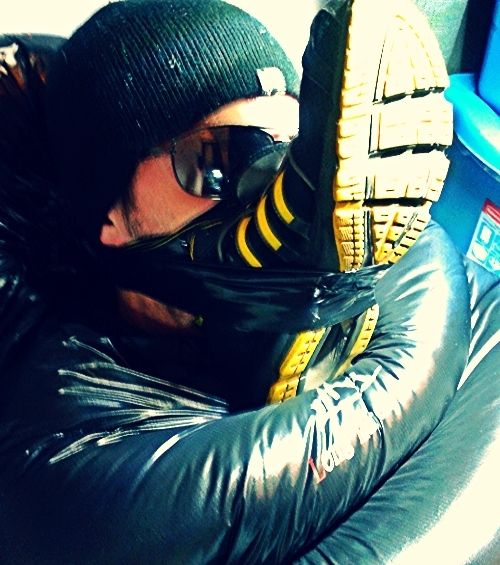 He was getting pretty hot in the bag, so after about an hour and a half I freed him and let him take a shower.
When I unwrapped his tape gag and pulled my sock out of his mouth, I thought he was gonna give me shit.
But he didn't. He actually just said that my sock was gross
He WAS a little pissed off, but I'm guessing he was just really glad to be breathing fresh air again and be to be freed from my -60C rated sleeping bag.
I ordered pizza while he was in the shower, we ate and chilled for a few hours and then he headed back to his place.
He asked to come over again next month, so I'm taking it as a sign that he's not THAT turned off by my footwear.
Who knows, I might even get him to like it at some point